I love theme parks. All of them. Living is central Florida is great for those of us that enjoy the parks. The holidays are a specially great because I can enjoy the beautiful decorations at my favorite parks while incorporating some easy walking.
Yesterday, my friend and I decided to take a leisurely walk from Disney's Hollywood Studios to Epcot and enjoy the many holiday decorations en route. We started at Disney's Hollywood Studios where they have decorations along the streets and a beautiful tree just outside the entrance.
From the exit, we took a left turn by the bus terminal and headed towards the Epcot Resorts Hollywood Studios connector towards the Boardwalk. It's a scenic route the along the boat waterway. We stopped at the Swan Hotel and checked out their lobby decorations. This display is made 100% of chocolate. The details on this display are amazing and pictures do not do it justice. The wood chair Santa is sitting on looked real. It smelled delicious in that lobby but check out the calorie count of that display.. WHOA!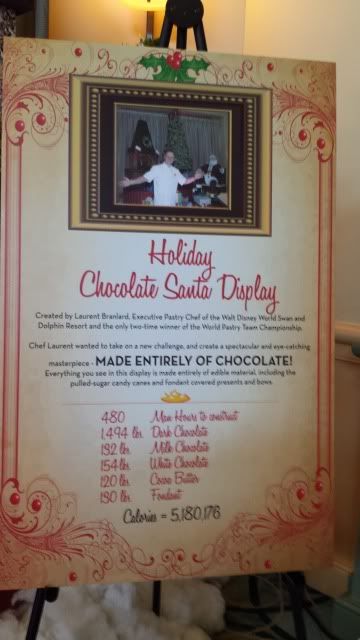 Chocolate display at Swan Hotel
A quick left turn after exiting the Swan hotel and we headed towards Disney's Yacht and Beach Club. We stopped first at the Yacht Club where the decorations started at the walk way. Inside there is a themed Christmas tree and a holiday village with train. The village has some great Disney details and touches including the Hollywood Studios water tower, Lightning McQueen, Mater, and many more. We could of spent lots of time looking at all of the little details.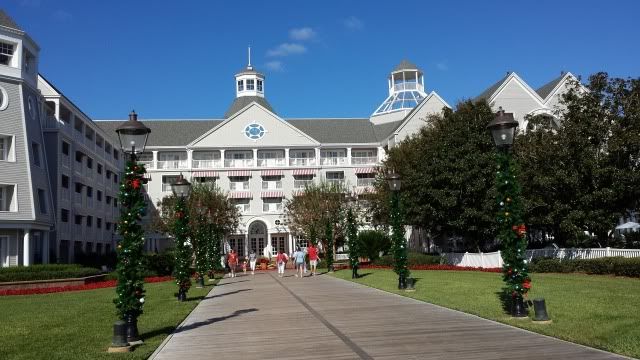 Disney's Yacht Club Hotel
Disney's Yacht Club Christmas Treet
Disney's Yacht Club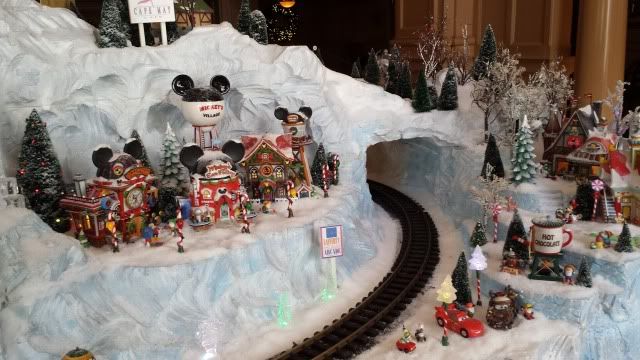 Next up was the Beach Club and their chocolate carousal. This beauty is not only made of chocolate but it rotates. This year they added two additional small displays, a lighthouse and an underwater castle.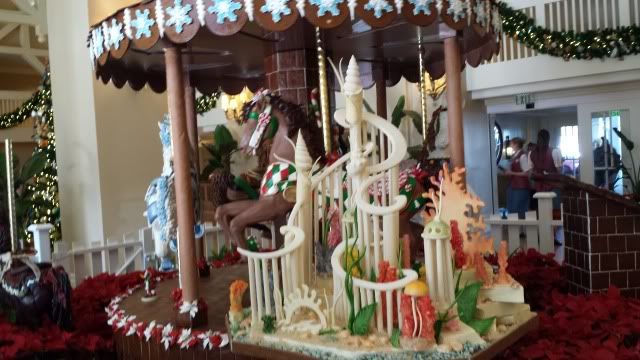 Disney's Beach Club Christmas Tree
We decided to skip the Boardwalk hotel and head over to the International Gateway Entrance of Epcot. It was getting close to lunch time and we were hungry. After lunch we took a walk around the World Showcase and towards Future World. There are lots of holiday decorations all along the World Showcase.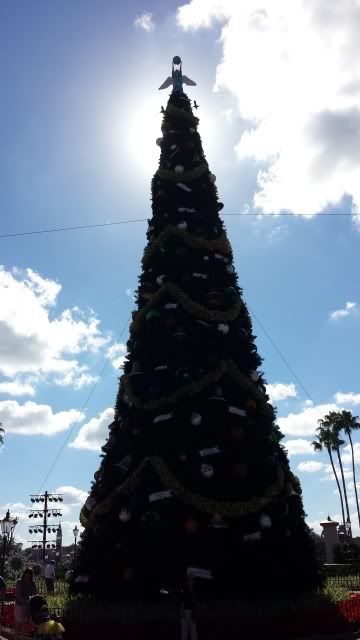 We made one final stop before exiting Epcot. I heard there was a chocolate display in The Land so we checked it out. This display was so cool with some Disney landmarks and even a replica of a Disney Cruise Ship.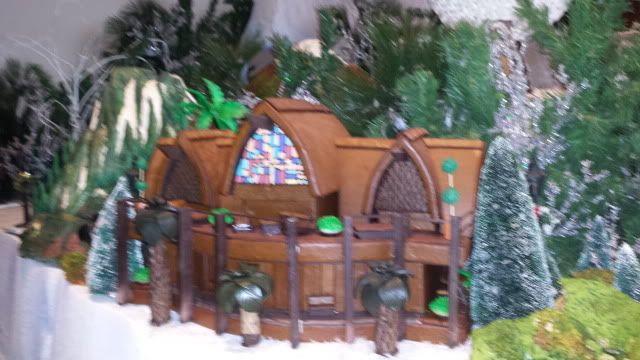 The entire route was a little over 3 miles long. It was a great way to see the sights and get some exercise in for the day. If you don't have park tickets, you can park at Disney's Boardwalk, they allow you three hours to shop or eat. Then you can tour the hotels in that area and walk to the entrance of Hollywood Studios, check out their tree and walk back. Here is a map of the route we took. With all the stops to look at all the holiday beauty and even a stop for a quick lunch in Italy, the entire route took just under two hours at a leisurely pace. It was a great way to enjoy the parks and get some easy exercise for the day.